Even if you are just starting in the field of programming, it's not worth putting off augmented reality creation till you have mastered the art of coding. Knowing the right tools for beginners, you can get into building an augmented reality app without further ado.
In this part, I'm sharing information about two of the best AR platforms for beginners – BlippAR and HpReveal. Some of the content is written by Julia Matyunina and Olga Yatskevich at Codetiburon.com (Click and find more useful information).
BlippAR
With Blippbuilder, no coding skills are required, not even for 3D objects or animations. This platform provides you with a drag-n-drop interface, which is easy as pie. Blippbuilder allows you to create your own interactive augmented reality experiences called 'Blipps'.
Creating augmented reality isn't as difficult as you may expect. With our BlippAR creator tool anyone can create augmented reality — with no coding skills required. The first augmented reality tutorial in our series will help you get to grips with scenes. Read on to get started, and check out parts 2 and 3 when you're ready.

Scenes are the core of how many AR experiences are made. Like slides of a presentation, they underpin the structure and user journey of AR experiences. Scenes can simply link from one piece of AR content to another, create games, or replicate the functionality of a mini app.
You can use scenes to create an AR quiz. For example, you could create a quiz to help potential customers work out which product in your range would be the best fit for them, straight from scanning the product packaging in a shop.
How to use scenes to make an AR quiz
Step 1 Upload your assets — you'll need images for the quiz questions, answers and buttons. Select the 'Uploads' button, choose the files you want to upload and click 'open' — you can upload multiple assets at a time. Your files will appear in the assets panel on the left hand side.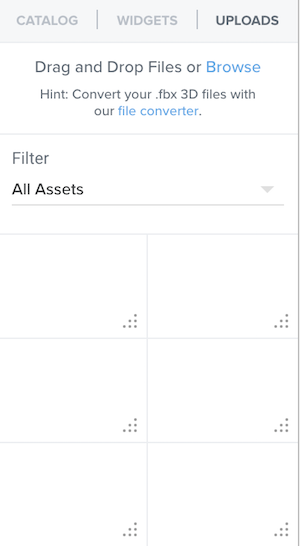 Step 2 To create your first question, drag and drop the assets you need onto the canvas.
Step 3 Resize, arrange and align each of your assets to how you want your quiz interface to look. You can use the X and Y axes to make sure everything is aligned neatly. By changing the values of these axes, you can change the alignment of the asset horizontally (X-axis) and vertically (Y-axis).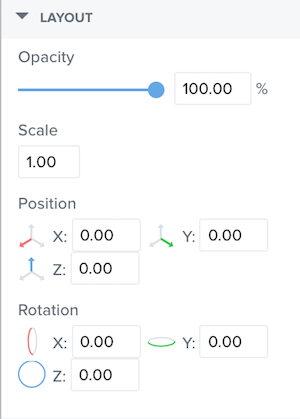 Step 4 Create scenes for your quiz — these are like the different slides of a presentation. Think about where you want your user to go from your first quiz scene. For example, if you have two multiple choice options, a user will either need to be linked to the 'correct answer' scene, or 'incorrect answer' scene. Click on the 'Scene' button in the bottom left hand corner to open the scene manager and add new scenes — rename them to help you organise.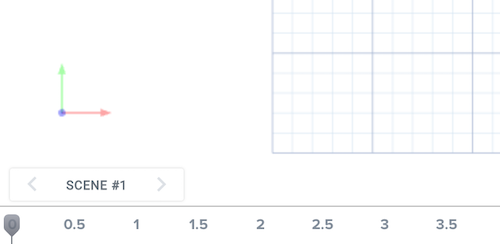 Step 5 You now need to make your assets — the quiz buttons — interactive, to let your user link to the different scenes. Select the asset for your first quiz answer — for example, the correct answer — and in the settings pane on the right hand side, select 'Go to scene' from the drop-down menu. Then, select which scene you want it to link to — in this case, it's the 'correct answer' scene you created in step 4.
Step 6 Repeat the process until you have created each question of your quiz! The result will be a quick, fun experience that launches in augmented reality.
Want to see some projects accomplished with BlippAr?
Let's explore an example of a travel solution. In 2016 Emirates famous airline introduced the world's first interactive amenity kit in Economy Class. This unique kit includes not only necessary things for additional comfort in flight but also immersive content for mobile devices. Customers need to install the Blippar app and use it to scan the bags and they get access to entertainment and healthcare content.
If you want to know more about this AR platform and what system is behind it, explore this introduction shared by BlippAR.
Aurasma
Aurasma is a platform that allows users to create AR environment without any use of programming skills. Like most other platforms of this type, it includes a drag-n-drop interface and a cloud-based system. The content can be published and updated at the drop of a hat.
Just remember that platforms like Aurasma Studio, the simple ones, do not give you the whole package of opportunities, that you expect from professional SDKs. You cannot manipulate 3D objects the way you would in Vuforia or Wikitude. What are the limitations of Aurasma Studio?
no face recognition, you can't create face filters
no mapping with OpenGL
no scanning objects for recognition
no mapping additional elements on the base of user location and recognized images
no 3D tracking technology (SLAM)
no geo-location
A popular magazine GQ has recently issued 'the Men of the Year' edition containing AR content. This way reader had to download Aurasma-powered 'GQ Live' app and scan the magazine. This content featured sneak peeks of the issue and behind-the-scenes videos of the Men of the Year photo shoots. Also GQ included big amount of augmented advertisements for companies like: Geico, Hilton Hotels & Resorts, Louis Vuitton, Ralph Lauren, and Ray-Ban. So off-line marketing and advertising is all for AR technology.
Create an augmented reality content: beginner's guide
Using new software for the first time can be difficult and often overwhelming. However, clear goals and practical value could help with motivation and curiosity. So, let's start with something we all can use – an augmented reality business card. Even though everyone has it nowadays, we are all struggling to engage with cards and contacts. What if I tell you that even such a simple thing as business card can become augmented, interactive and fun? An augmented reality business card may be your next big thing. Now, let's upgrade your networking game and make new meetings fun.
What is an augmented reality business card
At first glance, it's an ordinary card, but when you scan it with a smartphone or tablet, it opens up into a 3D product model. Wait! There is more. These business cards may include way more information and even product catalogs.
How to build an AR business card
Want to know the best part? Creating augmented reality experience with Aurasma studio is free.
Create an account in Aurasma Studio.
Select "Create New Aura". Aura is an AR experience created via Aurasma Studio.
Select a trigger image. A trigger is a printed-out or on-the-screen image that you use to view aura. For that, you just point your camera view onto a trigger and your smartphone screen will display AR elements. How to make a trigger image? You can upload a file from your computer or select a trigger already uploaded to your account.
Select an image, give it a name, and then press "save".
Now you can edit your trigger. You can zoom in or out and add a mask (a geometrical shape that will strengthen a trigger image). Mask the areas that look not sharp or contrasting enough. Then hit "Next".
Now add overlays. Overlays are videos, links and images that launch from the selected trigger. Upload file from your computer or select the owne you already have in your account.
Name your overlay and hit "Save".
Now you can edit your overlay, place and resize it the way you want. Hit "Next".
Give your Aura a name and save it.
To view your first AR experience download Aurasma app, log in to your account and point your camera to the screen or printed trigger. Enjoy your AR experience!
Augmented reality apps are becoming widely used and accessible nowadays. Don't be the last to reap the benefit. Creating an AR app is no arcane art. And we've proven, everyone can cope – from beginners to professionals. What's your next step? Set your imagination free and envision how augmented reality technology can empower your business.